Hashtag Sticker Feature on Instagram Stories
Today, as I was checking my Instagram to see the new face filter feature (a.k.a. Snapchat-like augmented reality selfie filters), I noticed that they also added a sticker for a hashtag. This was a very pleasant surprise! This means that now you can add hashtags to your stories, directing your followers to more posts related to that hashtag. As a user and as a marketer I believe this is a feature that we can use in our favor to connect with our community and to make our content much more findable.
How to add a hashtag to an Instagram Story?
Create a story: a photo, video, boomerang, or even a "rewind" (a new featured also introduced on May 16, 2017)
Tap "Add a Sticker"
Tap the #Hashtag sticker
Add the hashtag that you are wanting to use or
Search for similar hashtags: some results will appear at the bottom depending on the word you are looking for
Tap "Done" and your hashtag sticker will be added to your Instagram story!
Note: You can also use the text feature to add a hashtag. Just simply tap the pencil, add your #hashtag (or search for one), and tap done.
If you are more of a visual person, here is a step by step guide for adding a hashtag sticker to your Instagram Story:
3 ways the hashtag feature on Instagram Stories can benefit your marketing
Connecting your audience to your campaign:
Once you have decided on a hashtag for your campaign, mentioning it on a story gives you another chance to let your followers see your posts (in case they missed them on their timeline). Of course, I would make sure there are a few posts under that hashtag before sending any followers there.
Showcasing your community and user-generated content:
This new feature could give you an opportunity to showcase the content that your community creates. For example, if you are a makeup company, you can invite your followers to get some inspiration from others in the community using your products. Also, having a hashtag and mentioning it on your story can also create a sense of community, a community that is being heard and acknowledge.
Directing your followers to a different perspective of your event:
If your followers missed your live broadcasting of your event, now they are not only able to see your stories, but also quickly access a collection of photos from you and other event attendees. This would allow you to continue the conversation and potentially increase other posts' impressions.
These are just some ideas that pop into my head when I saw this feature. Do you think there are other benefits to being able to add hashtags to your story? Please let me know in the comments!
UPDATE: May 23rd, 2017
Today, Instagram has launched Story Search for hashtags and location tags. Similarly to Snapchat, when you search for a place or a hashtag you can see a story created from other people' stories that use the location sticker, the hashtag sticker, or a written hashtag. This is something that was bound to happen after the release of the feature.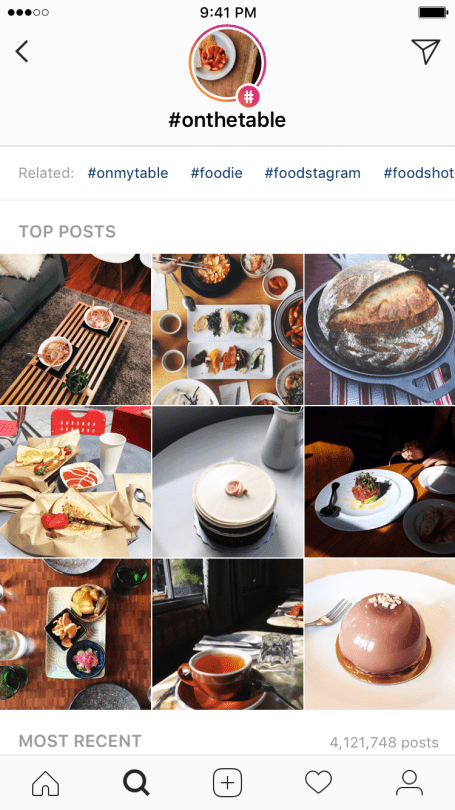 Now, there is a way to see the content that is being created by users under your hashtag or the location of your business. These stories could tell much more about the experience than just a picture. Just from the top of my head, I would recommend to always keep an eye on these stories to see if you are exceeding your customers' expectations, if there is anything interesting content being created by other users, and potentially bring attention when is appropriate. For example, when it comes to restaurants people will potentially see the story for this location and make a decision if they will come in or not for brunch. That is why is so important to tell your story and reach your audience in other ways.
I look forward to seeing how brands and companies will use this feature to creatively tell and shape their story on Instagram.